Featuring artful designs for a fully dressed window, the Design Studio™ suite of products provides ample layering opportunities for vibrant home-décor styling.The Design Studio family includes four styles: Side Panels, Drapery, and Roller and Roman Shades, boasting a highly curated, exclusive fabric collection.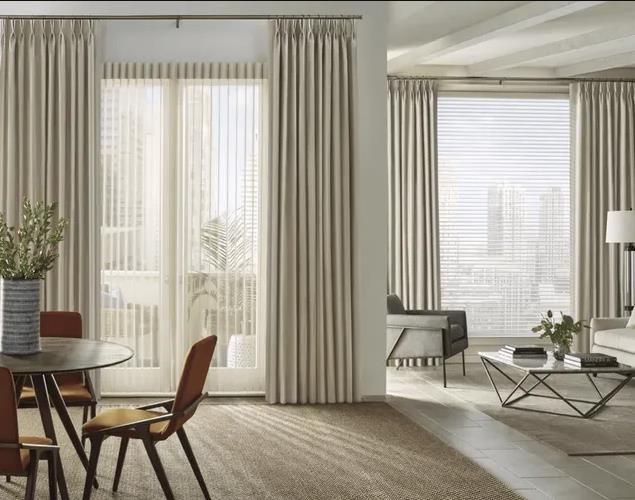 A COMPLETE
WINDOW SOLUTION
Design Studio products are designed to coordinate and layer perfectly with all Hunter Douglas window treatments. Signature fabrics range from sophisticated silk blends and sheers to elegant velvets and jacquards. We recommend layering and mixing fabric patterns and textures to create a captivating experience in any room.
SIDE PANELS & DRAPERY
Design Studio Side Panels and Drapery add depth, dimension and a touch of drama to any room. And for every Hunter Douglas window treatment you love, there's a complementary Design Studio Side Panel or Drapery that beautifully layers your windows, not to mention controls light gaps.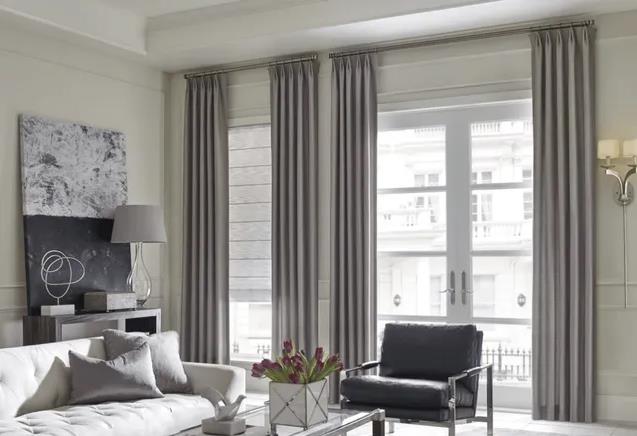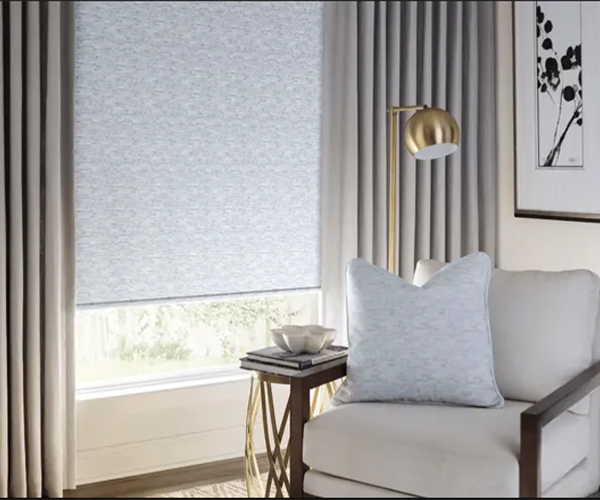 ROLLER SHADES
Loved for their minimalistic aesthetic, Design Studio Roller Shades offer a clean, uncluttered appearance at the window. This timeless window-treatment style looks gorgeous in our custom-crafted fabrics from Rebecca Atwood. Available in both opaque and semi-opaque options.
ROMAN SHADES
With soft folds that stack smoothly and evenly when raised, Design Studio Roman Shades fuse a traditional look with contemporary functionality. Exclusive fabrics further elevate these shades with exquisite colors and textures. Designed to stand alone, or pair with a complementary Side Panel or Drapery.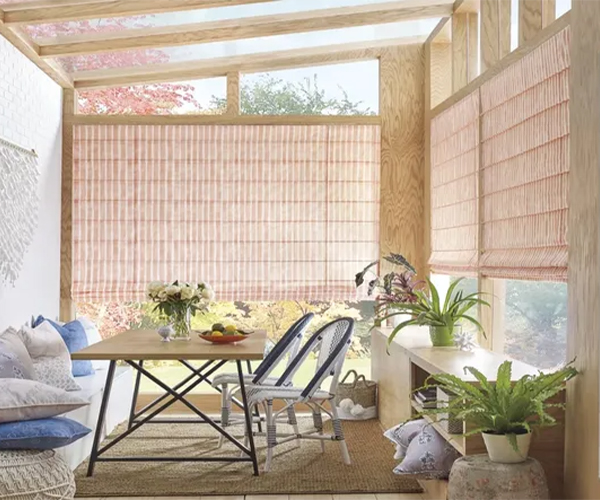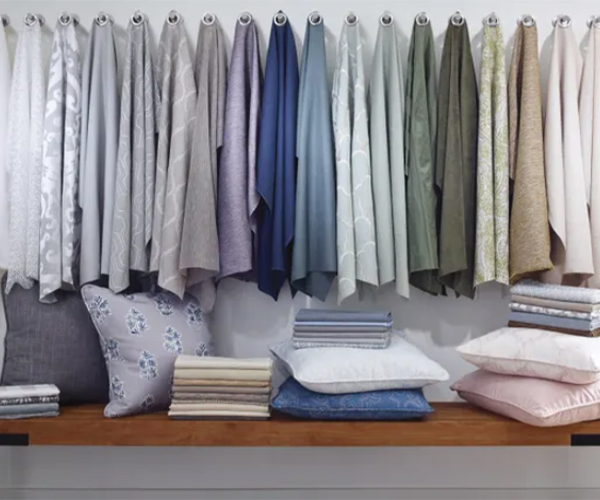 CUSTOM HARDWARE & ACCESORIES
To accompany the luxurious aesthetic of your Design Studio Side Panels, Drapery and Shades, sleek coordinating hardware is available in custom designs and finishes along with additional cut fabric by the yard, and complementary valances and pillows to complete your look. Be sure to consult with your local Hunter Douglas specialist for options.
THE FINISHING TOUCHES
The most decorative accent at the window, Design Studio™ stationary Side Panels and fully functioning Drapery—part of our Design Studio suite of products—add drama, frame and elongate your windows while adding depth, dimension and texture. The carefully curated collection of fabrics, including eight from NY designer Rebecca Atwood, has been hand-selected to bring a signature, finished look to any décor. Did we mention they control light gaps as well? Add them as a layer to any Hunter Douglas window treatment and your look will be complete.
Exquisite Fabrics—Featuring luxe basics, lofty textures, alluring jacquards, artisanal embroideries and luminous sheers. Performance fabrics, that is, ones designed specifically for durability, stain resistance and UV stability, are also available.
Styles—Side panels and drapery are available in multiple styles:
• Side Panels: Two-Finger Pinch Pleat, Two-Finger European Pinch Pleat and Grommet
• Drapery: Two-Finger Pinch Pleat, Two-Finger European Pinch Pleat and Ripplefold
Fullness—Feature a deluxe 2.5x fullness. Ripplefold Drapery comes standard with 2x fullness.
Light Control—All fabrics other than sheers are fully lined with a white light-filtering or room-darkening liner.
Finishing Details—Tailored headers feature handcrafted pleats and a 4" buckrum for uniformity and quality. 4" double bottom hems, combined with double-turned side hems and 4" pillow-cased turned hems, provide a custom finish.
Drapery Hardware—Design Studio features both motorized and non-motorized options for Side Panels and Drapery.
Fabrics by the Yard—Order additional fabrics by the yard, and have them turned into beautiful accents for your room.
Pillows—Custom-made pillows are available in two exclusive sizes: a 22" square and a 12" x 16" oblong.
WANT TO SEE MORE STYLES IN PERSON?
SCHEDULE YOUR CONSULTATION